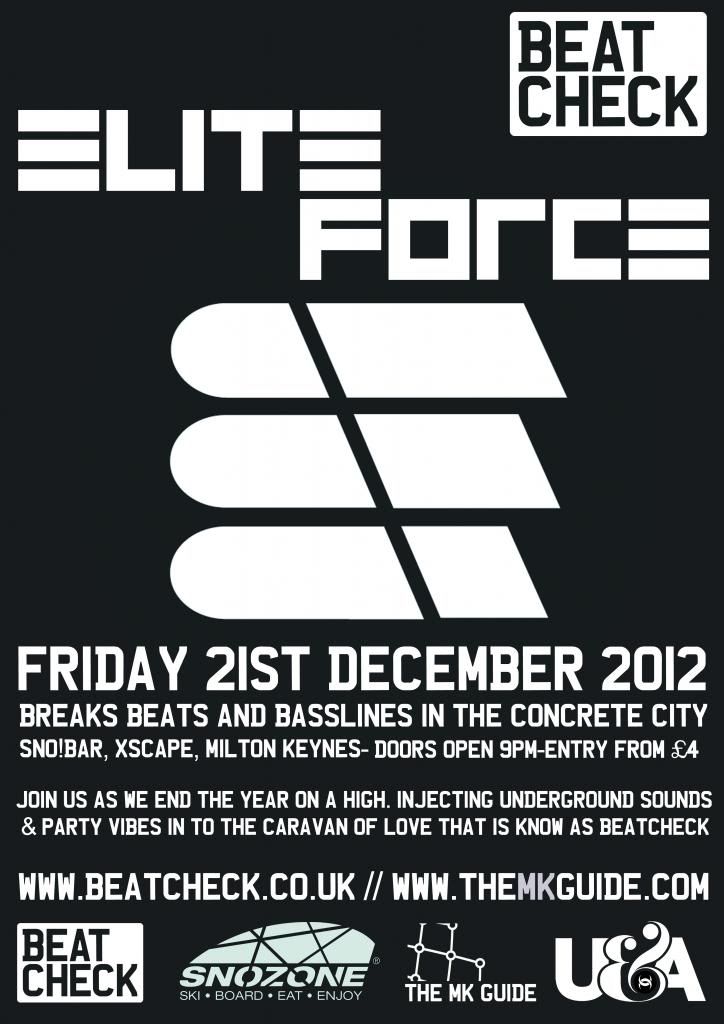 Join us as we end the year on a high, injecting true underground sounds and party vibes in to the concrete city.
December 21st, Sno!bar, Xscape, Milton Keynes, flying the flag on the Check' decks, ELITE FORCE (U&A Recordings)
His technical DJ performances are globally renowned. Pushing genres and boundaries to the limit, while uniting sweaty dance floors as one.
Famed for his ReVamps, Elite Force has remixed a huge A List cast including: Grandmaster Flash, Groove Armada, Crystal Method, Skrillex, Primal Scream, Adele, Deadmau5, Muse, & Chemical Brothers.
He's produced soundtracks for A list movies such as The Matrix, Mortal Kombat, Crow, The Bone Collector, & Spiderman 2 and he's even made appearances on CSI and Top gear.
"One of the most consistently innovative and hard-working producers out there … from dubstep to tech-funk, this electrifying bunch of ace mash-ups mixed into a coherent, genre-traversing blend is a exceptional" [DJ Magazine (album reviews)]
"The originator of the anti-genre DJ-style 'tech-funk' takes the realms of cross-genre production to another effortless high with Re:Vamped. In a nutshell, this kicks. 5/5" [Mixmag Reviews]
Supporting residents on the night include, Andy Black, Nasty Neil E, The Candyman, DJ Gracenote & DJ Shift.
Entry is a mear £4 all night long! Doors open at 9pm….. its gonna get messy.
It's the end of the year; some say the end of the world….. Let's go out ravin'!
CLICK HERE FOR THE EVENT ON FACEBOOK