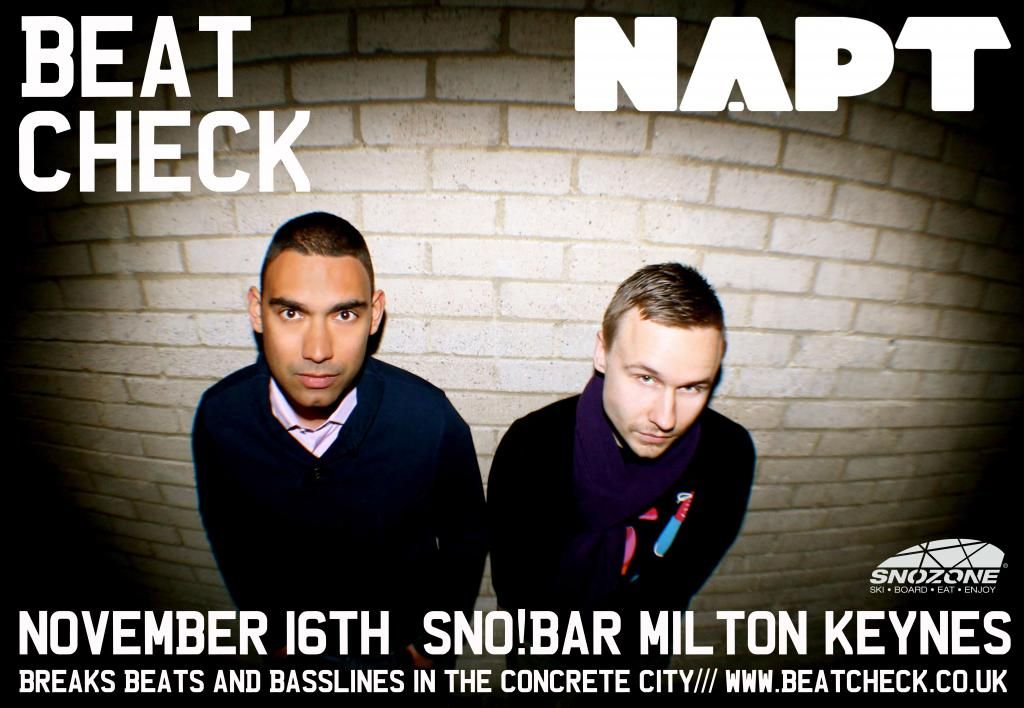 Beatcheck Present: NAPT (Fools gold records)
November 16th, Sno!Bar, Xscape, Milton Keynes
Beatcheck returns to the concrete city with another night of thundering basslines and funky ass beats, this time we have brought out the heavy artillery in the form of DJ duo, NAPT.
Multi award winning NAPT have won about everything going, including winners of International Breakspoll "best producer" and "best track" two years running. Yes both awards two years running….
But who cares about awards, these two can smash a sound system and dance floor to bits. Their live DJ sets have toured the world and its super clubs, and now, hitting the mighty 'Check-decks for the wreck 'eds of Milton Keynes. (That's you lot)
In true Beatcheck form we have the cream of MK's talent to keep the flow of heavy weight Breaks, Beats & Basslines in the form of residents:
Uncle Muff, Andy Black, More to be confirmed.
We also have a sound system big enough to make you crap your paints…. Smoke, lights, and freeekin laser beams.
Beats kick off at 10pm sharp, entry is from £3. Get there early to get in, it's an intimate venue. Find the event on Facebook by clicking here
See you on the 16th, and keep December 21st free of a massive line up to end the year in Beatcheck style.
Love,
The Beatcheck Monkey