May is always a great month, the sun comes out, we kick off with a bank holiday and we end with another bank holiday. That's a lot of extra party time for the good people of Milton Keynes.
This is The MK Guide's top tips to this bank holiday weekend, helping you make the most of the extra fun times.
Friday 3rd May:
Loft party, Xscape,
Tucked away in a loft in the Xscape, this is the party not to miss.
The night features residents: Jamie Trench, Damian Gee, Daniel Dalton and a special guest set from Angus Jefford (MIL/Tsuba/La Loop)
Stunning decor with great music surrounded by lovely people are what these parties are all about, no beer boys here please.
Down & Dirty, The Slug and Lettuce
The night is well known for its Electro and Trance beats, blasting a fresh wall of sound in to the heart of MK. Look out for Beatcheck resident, Nasty Neil E, who is preforming as one half of the newly formed "Legion of Boom". Exciting stuff.
Saturday 4th: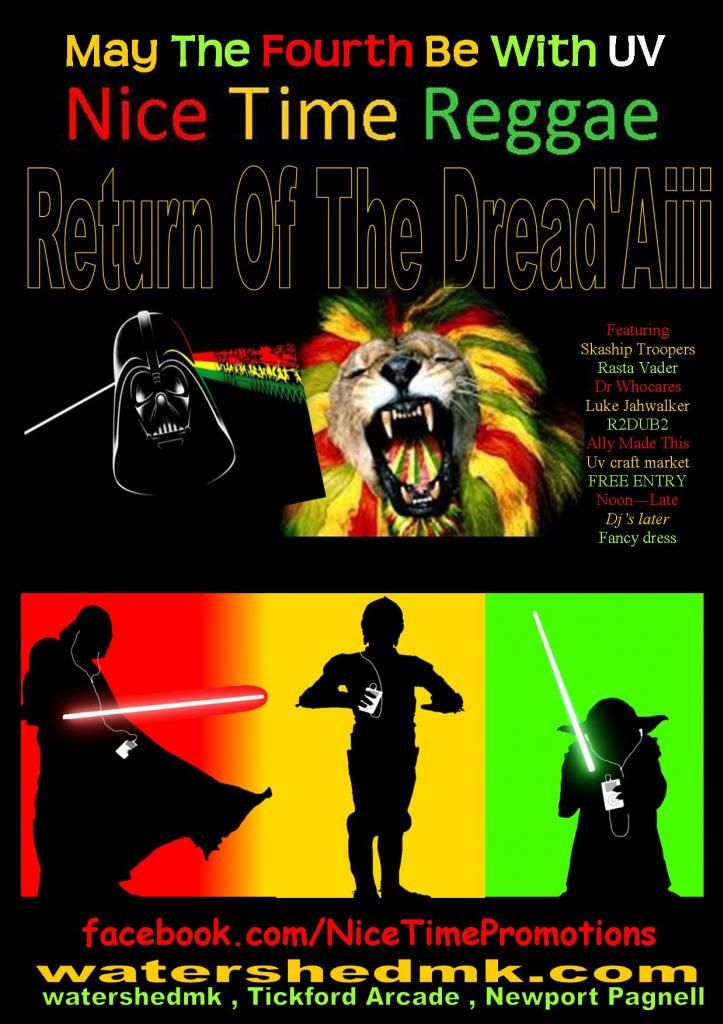 Nice time Reggae "May the forth be with UV", The Watershed
We tried to write something smart for this, but the Nice Time boys did it much better we could:
"The Fourth Be With UV fancy dress – rasta vadar , Skaship Stormtroopers , Doctor Whocares , ALL FREE ENTRY ALL DAY geek it up Universal Reggae Soldiers get onboard the skaship enterprise!"
That just about says it all, love it. Love the flyer.
Sunday 5th:
Loving Life presents: Hed Kandi / Ultra Vegas, Revolution.
Three of the biggest names on the house scene, all under one roof.
Ultra Vegas are famed for their venue transformations, so you can bank on high production and a whacking great Funktion One sound system throughout.
If you like house as house, then you will love this, simple as.
Slam: Launch night, The Slug and Lettuce.
A new night for our new city. Slam provides an alternative to house music in Milton Keynes….. it provides BIG ASS BASS! (and we quote) "UK Bass – Future Jungle – DnB – Grime – Dubstep"
But you can have all that Bass without a massive system, …. ah.. ok, They have a MASSIVE system. What about DJs?
How about Beatcheck's very own bass smashing CANDYMAN. Then add to the mix – OCCULT (M.U.D., Rood FM), JOBI WAN (Dusk.FM) & ODC b2b VANTAGE (Detonate).
This is a Bassline night for lovers not fighters, which makes a nice change for MK.
So there we have it, three amazing days of music in the concrete city that is Milton Keynes.
If you would like to see your events listed in The MK guide, drop us a line.
The MK Guide is your free to use events guide to Milton Keynes.